Hip dysplasia is often asymptomatic. It may result from a change in the child development, without the possibility of making the proper diagnosis until it reaches bone maturity. In most cases it is sufficient a radiograph of the anteroposterior pelvis, properly centered and with good resolution, to run a diagnosis. (fig. 1). When there are symptoms (see section "What is hip dysplasia? "). é importante que o seu médico prescreva uma radiografia da bacia inteira (e não apenas das ancas separadas) e que interprete as imagens de displasia: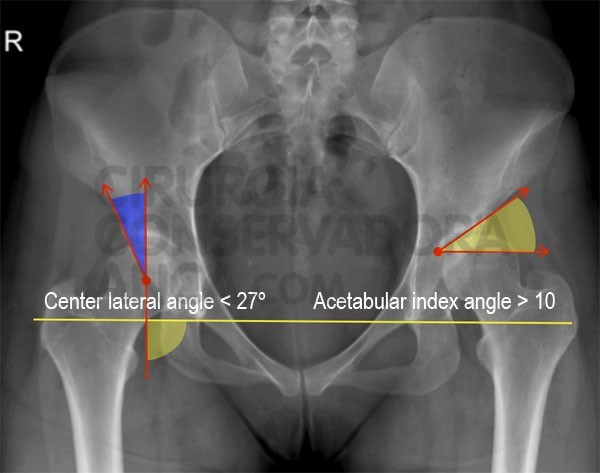 The blue angle (center-lateral) measures the size of the coverage of the femoral head; its normal range should be between 27 and 30 degrees. The yellow angle (acetabular index) measures the inclination of the acetabular ceiling and its normal value should be between 0 and 10 degrees. The image shows a bilateral dysplasia with altered angles.
In situations where the angles are close to normal and there is still some dysplasia, a radial MRI and intraarticular contrast allows to observe the state of the cartilage and labrum and draw conclusions regarding the presence of lesions or not.
In some cases it is important to make more specific radiographs placing the hips in certain positions to decide on the best treatment (dynamic radiographs).