Detailed knowledge of the anatomy and blood supply of the proximal end of the femur (femoral head) in adults and infants, has allowed the development of a new type of intraarticular surgery that has been gaining increasing interest. The so-called "preserving" surgery, since it does not resort to prosthetic implants, aims to correct symptomatic deformities known to be associated with an increased risk of hip osteoarthritis (coxarthrosis (see section "What diseases can your hip have?"). The articular preservation is an attempt to prevent or delay the development of degenerative changes. Theoretically, this is a better approach than replacement with an artificial joint (hip prosthesis or arthroplasty). The prosthesis, although very effective in older patients, does not have a lifelong durability. Plus in young and active age groups is subject to greater wear and therefore shorter longevity. Furthermore, we must keep in mind that it only works correctly when there are no complications.

Some prosthetic surgery drawbacks are:
the need for future surgery for implant revising
the release of particles by friction
the intolerance that some patients may have to its metal components and ongoing risk of colonization with bacterial agents that when it happens, usually has an uncertain prognosis.
The surgical techniques used to preserve the joint are several and have the common goal of restoring as much as possible the normal joint mechanics, treating cartilage lesions, diminishing pain and improving function. Resorting to arthroscopic surgery (see section "Arthroscopy of the hip") to treat an important part of these situations is considered a significant advance in this field. Open surgery is otherwise also important in treating some more complex situations "Bernese" Periacetabular Osteotomy and Surgical hip dislocation).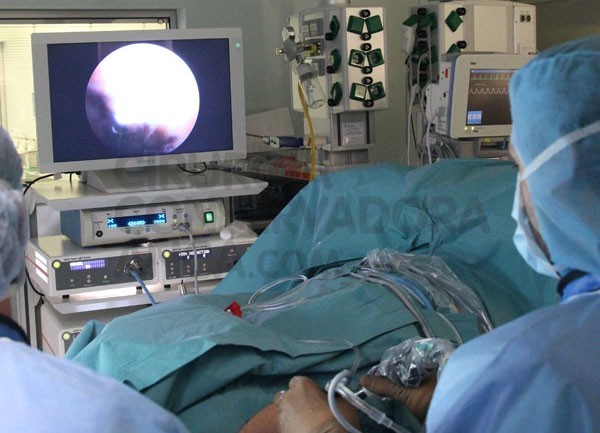 Interior view of the hip joint with an optic system (arthroscopy)
| | | |
| --- | --- | --- |
| | Rupture of the labrum and cartilage damage and arthroscopic repaira | |