The diagnosis of femoroacetabular impingement is made based upon the symptoms (see section "What is femoroacetabular impingement?") of the patient and physical examination. Mobilization of the hip in a certain direction at certain amplitude must reproduce the symptoms that lead the patient to the doctor's appointment. There may be cases, however, with less typically pain located in the buttock. When this condition is suspected, proper anteroposterior radiographs of the entire pelvis and "cross-table view" profile of the hip should be ordered (fig.1, 2 and 3).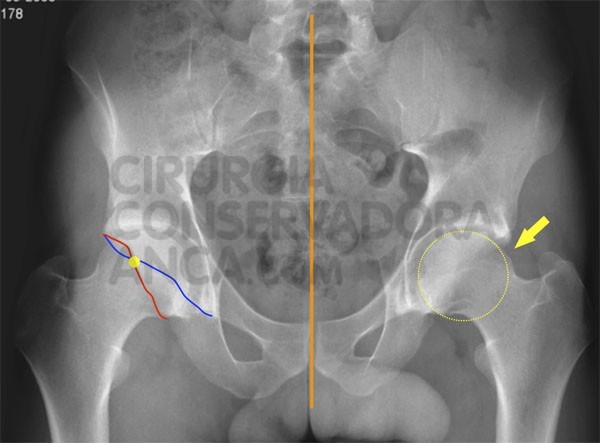 fig. 1: In a radiograph of a young patient centered properly (the orange line goes through the middle of the sacrum and the pubic symphysis) we observe:
To the right the mark of the acetabular retroversion (blue line which corresponds to the front edge of the acetabulum is more lateral than the red line marking the posterior edge). The crossing point (yellow dot) upwardly opening of the acetabulum and posterior - typical finding of focal femoroacetabular pincer impingement.
To the left the contour of the femoral head falls outside the boundaries of a perfect circle – which means that part of the femoral head is non-spherical - typical of a cam impingement.
In this case there are characteristics of cam and pincer CFA in both hips. Combined form.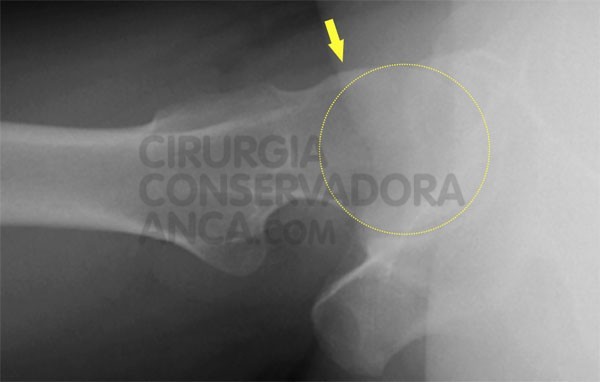 fig. 2: In the profile radiograph of the same patient noticed that part of the femoral head is not spherical.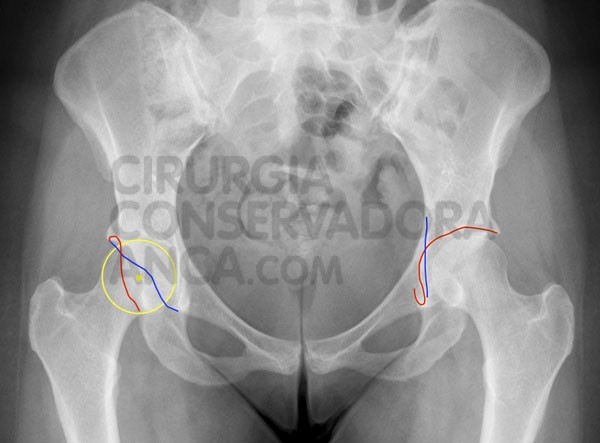 fig. 3: In the anteroposterior radiograph observed an excess of global acetabular coverage (deep thigh) determining the existence of a pincer mechanism global impingement (anterior and posterior). In the left hip we observed that the line of the posterior wall (red) and more lateral with respect to the geometric center of the femoral head which means excessive posterior wall. In the left hip we observed that the outline of the acetabular cavity (red) intersects a line joining the iliac ischium - ileo-ischial line (blue).

In patients with symptoms, to assess the degree of cartilage lesion and acetabular labrum, the MRI, carried out according to a specific protocol, might be very important (video). The lesion of the labrum and the morphology of the hip are sometimes difficult to interpret following radial images, so this should be done preferably in a reference medical center.
When there are doubts regarding the source of pain, there may be performed an intraarticular injection monitored with radioscopy to be sure the pain comes from the hip and not from another location (fig. 4).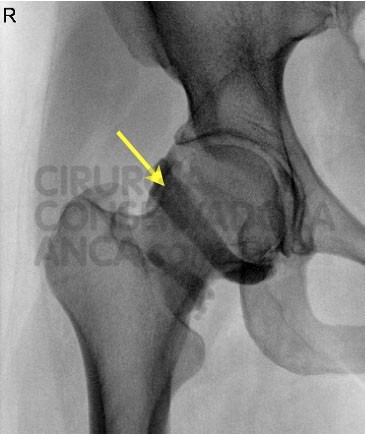 fig. 4: The combined injection with contrast (yellow arrow) allows us to be certain that the anesthetic is really placed within the joint. If for a while the pain goes away, then it arises from the intra-articular lesion.